Exclusive: Melbourne, Accra and Ulaanbaatar among cities to benefit from funding pledged by former New York mayor to tackle issues from air pollution to obesity
Michael Bloomberg, the billionaire bte noire of both the sugar industry and the tobacco industry, famously fought for a ban on the sale of large-sized colas and other sweet drinks when he was mayor of New York and lost. Although that is not how he sees it.
We actually won that battle, he says. I have always thought if we had not been stopped by the court, it would have died as an issue. Nobody would have known about it. But the fact that it kept coming back to the newspapers was a gift in disguise because people started to think, Holy God, maybe full-sugar drinks are bad for me.
So what happened was consumption of full-sugar drinks around the world has gone down dramatically. If we had won the thing, I think it would have been less.
Bloomberg did plenty more for public health while mayor of New York, including imposing one of the first bans on smoking in bars and restaurants in 2003. Since then he has widened his sphere of influence, funding successful campaigns through his philanthropic foundation for sugar taxes in Mexico and Philadelphia and for curbs on smoking all over the world.
Now, appointed last year as the World Health Organisations global ambassador for non-communicable diseases meaning anything that can harm or kill you that is not infectious the eighth richest person in the world, worth an estimated $47.5bn, is taking his philosophy and his cash to 40 cities around the globe.
His offer, taken up by about 40 cities so far and officially launched on Tuesday, is $5m in assistance from Bloomberg Philanthropies as well as technical support for cities that choose to focus on one of 10 healthy lifestyle issues, including curbing sugary drink consumption, air pollution, promoting exercise and and bans on smoking. They range from affluent Melbourne in Australia to Cali and Medellin in Colombia, Accra in Ghana, Ulaanbaatar in Mongolia, Khatmandu in Nepal and Kampala in Uganda.
National and state governments collect taxes, but it is city governments that make things happen. 50% of people currently live in cities and that is projected to rise to 70% in the next decade or so. Cities are where the rubber meets the road, Bloomberg told the Guardian. The problems are in the cities and the solutions are in the cities.
Bloomberg is upbeat, indomitable and an independent thinker. He made his money in global financial services and has been a Democrat, a Republican and an independent at various times. He says he believes the war on sugar and tobacco, of which his foundation must be seen as the main global financial backer, is being won.
In parts of the world, clearly yes, and particularly on smoking, he said. In Europe nobody would have thought people wouldnt insist on smoking in an Irish bar or pub or an Italian restaurant, but the smoking campaign has really worked, reducing consumption in all of western Europe, north and south America and even in China.
But there are places where poor people live and they are still smoking and really damaging their lungs and they are going to die young. It is up to us to keep the battle going. Sugar is a little bit less developed but still working.
His attention is on non-communicable diseases more broadly now that includes air pollution and road traffic accidents as well as cigarettes, alcohol and bad food. Cities in poor countries may argue that they have too many other problems to spend time on sugary drinks, but, says Bloomberg, poverty, ill-health and poor education are all interlinked.
It will be harder to get the public behind you because they less understand the damage being done to their own health. But thats the challenge. The cities where its easy have probably already addressed the issue, he said.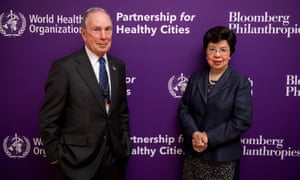 Read more: https://www.theguardian.com/society/2017/may/16/billionaire-bloomberg-to-fund-5m-public-health-projects-in-40-cities-worldwide