Seven majors in a row have now been claimed by first-time champions, with the 117th US Open at Erin Hills in Wisconsin going to Brooks Koepka of the US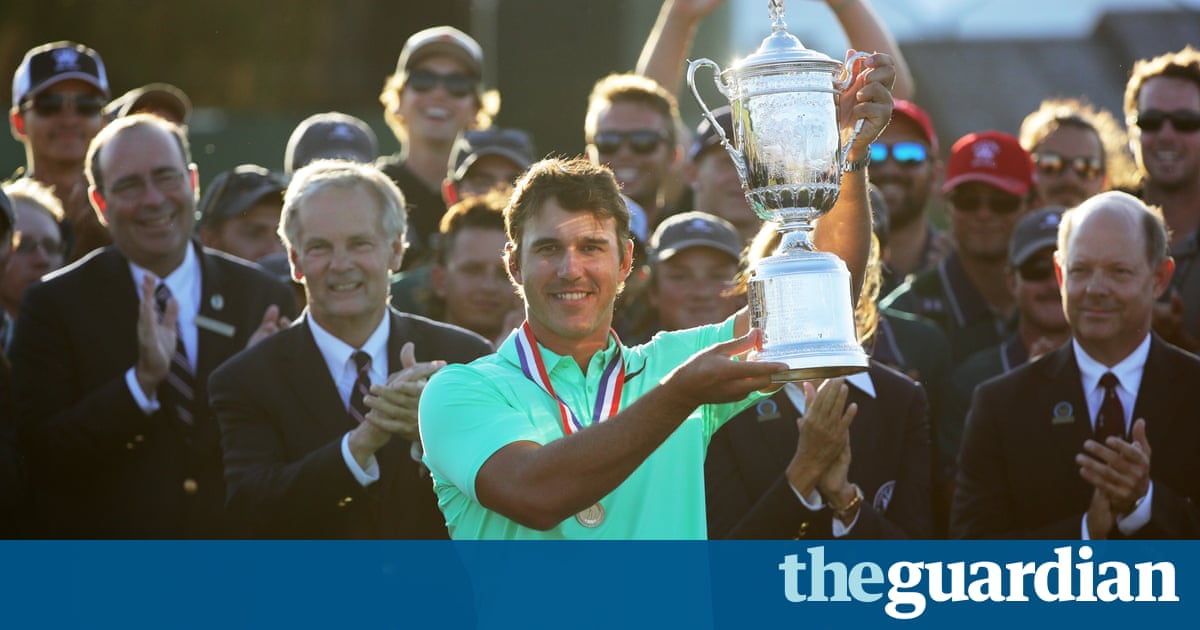 Major championships are now the domain of golfs one-time pretenders. Seven in a row have been claimed by first-time champions, with the conclusion to the 117th US Open developing into a test of nerve for Brooks Koepka. The 27-year-old from Florida became the latest player to deliver on earlier and widely recognised promise.
Koepka like Jason Day, Danny Willett, Dustin Johnson, Henrik Stenson, Jimmy Walker and Sergio Garca is a bridesmaid no more. Even fresh, testing Wisconsin conditions for day four and the weight of history could not halt Koepka as he brilliantly pieced together a 67. Three birdies in a row from the 14th provided the hammer blow to those in pursuit; the eventual margin of victory was four shots, at 16 under par, a record-equalling US Open tally. Brian Harman and Hideki Matsuyama shared second place.
Koepkas glory owes plenty to a bold career path. Rather than play through low grade tours in his native United States, he opted to move outside his comfort zone and to Europe. US PGA Tour status was earned as he progressed through the Challenge and European Tours, impressing seasoned observers on the way. Major wins, albeit never certain, appeared highly likely. This may be just the start.
Of the players who fell short here perhaps Tommy Fleetwood has the most cause to be upbeat. The Englishman continues a tremendous 2017, with aspirations of success at next months Open Championship perfectly realistic. This was, after all, his first time in major contention. Fleetwood finished fourth at 11 under.
Rickie Fowlers challenge stumbled on the back nine while Harman, who had hitherto dropped only two shots in the whole tournament, was to run out of putting form when posting bogeys at the 12th, 13th and the last. Fowlers 72 meant a share of fifth.
Koepkas triumph had a foundation on the greens. A birdie putt from 41ft at the 8th played a key part in reaching the turn in 33. By the time he took to the penultimate hole his lead was virtually unassailable. The prize was a record $2.1m.
Matsuyama came to grips with this ferocious battle, embarking on a stirring chase from just inside the top 20. The man seeking to become Japans first ever major champion posted a 66 for his 12-under total; Matsuyamas tilt at the top comes with the context of starting this tournament with a 74. At that point he was 82nd.
Matsuyama will rue one shot. His drive at the tricky 15th was pulled horribly into dense rough, from where he could only chip out sideways. The bogey which ensued proved damaging, though he should have the consolation of a rise to No2 in the world rankings on Monday morning. Matsuyama played the closing three holes in two under par despite being aware that one more time ruling would result in him being penalised a stroke.
Justin Thomas encountered the problems associated with backing up a record-breaking performance. Thomas entered folklore on Saturday with the 63 which represented the lowest score to par in US Open history. Within five holes of his final round, the 26-year-old was three over par. This back-pedalling inevitably left him with too much to do as others on the leaderboard collected early shots. So continues an ominous trend in Thomass career; when things start to go wrong, he is not particularly adept at stemming the flow. Thomass 75 left him tied ninth.
Given the list of illustrious names who could not survive past 36 holes here, special credit is due to Scottie Scheffler. The 20-year-old from Dallas finished as the leading amateur on the highly respectable 72-hole aggregate of minus one.
As Scheffler continues his career, confidence clearly will not be a problem. I was trying to compete and see if I could win the golf tournament, he said. I think it would be pretty cool winning the US Open as an amateur and that was my goal coming in.
Lee Westwoods 76 perhaps impacted on post-round sentiment but the Englishman made it clear he would be in no hurry to return to Erin Hills. This wouldnt be my favourite US Open venue, he admitted. I prefer when they play the traditional golf courses. The two new ones they have played recently [Chambers Bay and Erin Hills] arent as good as the older style courses like Shinnecock, Winged Foot, Oakmont and Congressional.
Jordan Spieth instead offered glowing praise towards the United States Golf Associations management of this major. The 2015 champion signed off with a 69 for a total of one over par before acknowledging inevitable pressure as felt by the USGA on account of US Open controversies of recent times.I was very, very impressed at the job the USGA did this week, said Spieth. I think they did a fantastic job.
Chambers Bay was tough with the greens and then last year had a tough Sunday. I thought that the USGA did a phenomenal job this week of allowing the golf course to be what it is and play the way its supposed to play. Not trying to do anything to hold any kind of standard. Instead, create an environment where, if you play well, you can score and, if you dont, then it can go the other way.
There was no unfairness whatsoever. I thought the USGA did a fantastic job coming back this year and I know that they really wanted to.
Its tough going to two new venues in three years that theyve never used before. Thats a difficult thing to do. I hate to say its surprising but I thought it was really well done.
Spieth was vague regarding his plans in advance of the Open Championship, raising the possibility he might spend some of his competitive build-up time in Ireland or Scotland. When he last won a major, in June of 2015, golfs biggest events seemed a closed shop for the elite. Times have swiftly changed.
Read more: https://www.theguardian.com/sport/2017/jun/19/us-open-2017-champion-brooks-koepka-erin-hills