Carter Page interviews are most extensive questioning of a potential suspect in the inquiry into possible coordination between the Trump campaign and Russia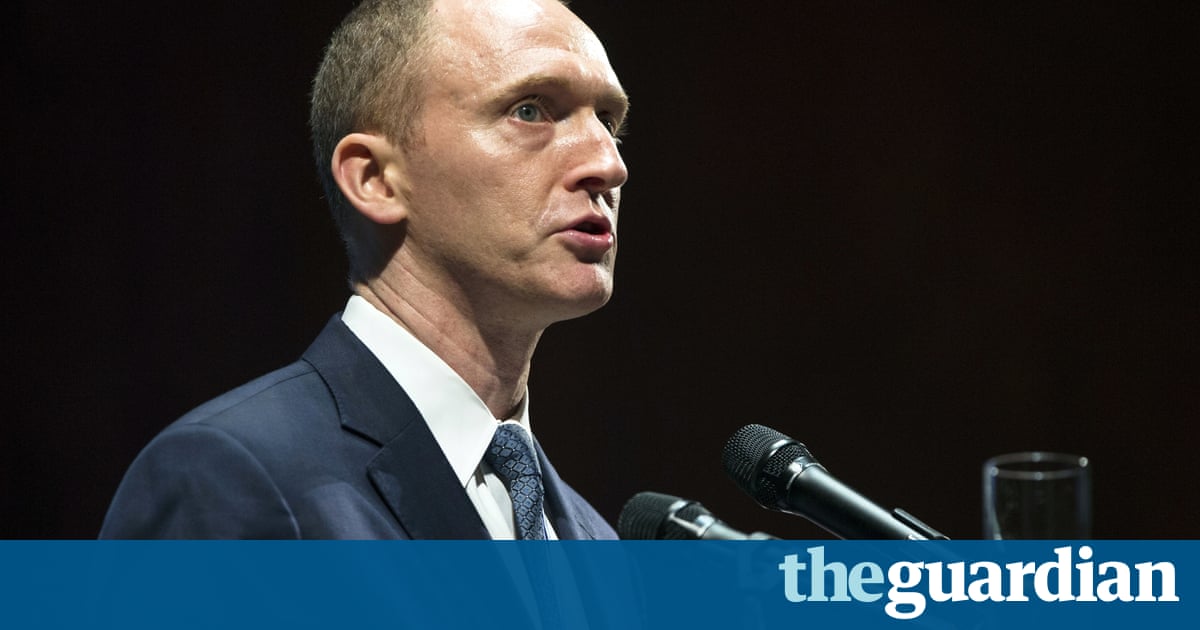 A former foreign policy adviser to Donald Trumps election campaign has claimed that he underwent a series of interviews by the FBI in March, the Guardian has confirmed.
Carter Page repeatedly denied wrongdoing when questioned about allegations that he acted as an intermediary between Russia and the Trump campaign, the Washington Post reported. He was apparently questioned during a series of five meetings that lasted a total of around 10 hours.
In an email to the Guardian on Monday, Page wrote that the FBI accepted his loyalty to the US but were worried that he rejected the findings of a US intelligence report in January regarding Russian interference in the presidential election. He said his distrust stemmed from the so-called dodgy dossier of 2003 presumably a reference to the UKs flawed report on weapons of mass destruction that led to the Iraq war.
During my extensive discussions with the FBI agents just weeks before Comeys departure, they acknowledged that Im a loyal American veteran but indicated that their management was concerned that I did not believe the conclusions of the fake January 6 intelligence report, Page wrote.
I told them that I learned the lessons from the intelligence failures of the original Dodgy Dossier from 2003 which cost this country thousands of service members lives and over a trillion dollars. Our frank and open conversations gave me confidence that there are still logical, honest individuals at the Bureau who respect civil rights and the Constitution, despite the recent devastating impact on our democracy by self-centered politicians at the top of the Clinton-Obama-Comey regime.
The Page interviews with the FBI are the deepest known questioning of a potential suspect in the investigation into possible coordination between the Trump campaign and Russia. It is not known if they yielded any salient information.
Page, who has repeatedly called for warmer relations with Russia, was named as a foreign policy adviser to the Trump campaign in March 2016 but was axed after questions arose about his ties to Moscow. Trump officials have denied that he was an influential figure in the campaign.
Meanwhile an extraordinary war of words has intensified between the Trump and Obama administrations over the extent of Russian interference and whether more could have been done to stop it.
In apparent effort to deflect charges of obstruction and collusion on to his predecessor, Trump tweeted on Monday: The real story is that President Obama did NOTHING after being informed in August about Russian meddling. With 4 months looking at Russia … under a magnifying glass, they have zero tapes of T people colluding. There is no collusion & no obstruction. I should be given apology!
Trump appeared to be referring to a Washington Post report last Friday about the Obama administrations response to Russias attempts to influence voters in which some former officials suggested the former presidents strategy was too modest, perhaps for fear of playing into Trumps narrative that the election would be rigged.
Asked what evidence Trump has that Obama was colluding or obstructing, White House press secretary Sean Spicer said on Monday: I think it comes back to this idea that theyve been very clear, theyve been playing this card about blaming Trump and Russia. And yet, at the same time, they were the ones who, according to this report, knew about it and didnt take any action.
So the question is, were they – if they didnt take any action, does that make them complicit? I think that there is a lot of questions that have to get answered about who didnt know what and when.
Spicer was then challenged over Trumps remark at a press conference last July in which he said he hoped Russia could find Hillary Clintons missing emails. A reporter demanded: How can you accuse President Obama of obstructing, when he was egging Russia on?
The press secretary claimed: He was joking at the time. We all know.
Former Obama administration officials have also pushed back at Trumps attacks, suggesting that they are a characteristic attempt to shift blame from his own conduct.
David Litt, a former Obama speechwriter, told the Guardian: Id take President Trumps sudden interest in preventing Russian meddling more seriously if he hadnt called on Russian intelligence to release hacked State Department emails in a press conference last year. Call me crazy, but I think President Trumps criticisms might not be entirely sincere.
Ned Price, who worked at the CIA from 2006, most recently as the spokesman for the National Security Council, told the MSNBC channel: He is throwing back the terms that he has been accused of and its a defence that frankly has no basis and thats because his actions have been indefensible. On the campaign trail he praised WikiLeaks 164 times in the final month alone, he called on Russia to hack Hillary Clintons emails and he has consistently denied any meddling on the part of Moscow.
Price added: In terms of what the Obama administration did, look, lets not forget that our paramount objective was to ensure the integrity of the vote, our most sacred exercise in our democracy, and we did that, as both the Obama administration and subsequently the Trump administration has confirmed. Moscow was not able to interfere with the election process, they were not able to tamper with votes.
Read more: https://www.theguardian.com/us-news/2017/jun/26/trump-russia-investigation-carter-page-fbi-interviews