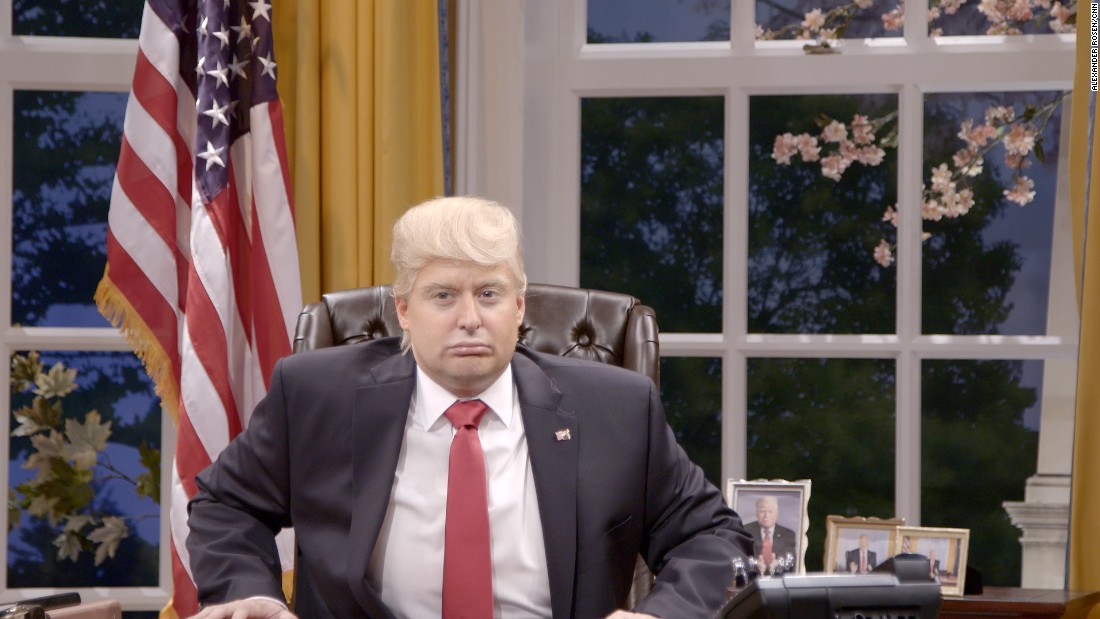 (CNN)While touring the country as a Donald Trump impersonator during last year's presidential primaries, actor Anthony Atamanuik planned to hang up his Trump wig after Election Day.
That, of course, didn't happen. Trump was elected president and the nation's appetite for satire only increased as Trump took office. By then, after months of dissecting Trump's mannerisms and drilling deep into the mogul's psychosis, Atamanuik had honed one of the best Trump impressions in the country.
And in a strange twist of fate for the liberal-minded actor, Trump's success provided Atamanuik the biggest break of his life. Atamanuik's act is now showcased every Thursday night on Comedy Central in a new program called "
The President Show
," where he portrays Trump as the host of his own late-night talk show from the Oval Office. The show aired for the first time last week.
"I want to rob him of his identity," Atamanuik said of his aim in playing Trump every week. "I want to take his swagger and his visage of swaggering masculinity, and I want to replace it with this effeminized dowager that is distracted and not intellectual and ineffective and incapable of being in the office."
Atamanuik got his start playing Trump on a lark during an improv performance with the Upright Citizens Brigade in 2015. He grew into the character on stage and then teamed up with comedian James Adomian, who was workshopping a Bernie Sanders character, to travel the country on a "debate tour" between "Trump" and "Sanders." The
live show was a massive success
, landing the duo a special on Fusion and regular appearances on Comedy Central's "@Midnight" program.
And it was all fun and games until election night 2016. Atamanuik, to be sure, is grateful for the opportunity Trump's success has given him, but says he'd throw it all away for a different outcome last November.
"I would trade this in a heartbeat if he wasn't President. If I could snap my fingers and this all went away and I'm teaching improv but Trump isn't President, I would be fine with it. More than fine with it," he said. "I still will only do this as long as he's a political figure. The moment he's not a political figure, I will burn the wig in a bucket and I will never go back to it."
As a presidential impersonator, Atamanuik is operating in an increasingly crowded space, but his raw talent at channeling Trump's id ranks him among the best. While Alec Baldwin's Trump on "Saturday Night Live" is spot-on and culturally defining, Atamanuik's adaptation is raw, delightfully risky and flirts with reality just enough to make the hair stand up on the back of your neck. Squint, and you forget it's satire.
"I do an impression of his soul," Atanamuik said. "I would want him to watch and say, 'Oh my God, that's how I come off? Oh my God, that's who I am?"
The show airs every Thursday at 11:30 p.m. ET.
Read more: http://www.cnn.com/2017/05/01/politics/donald-trump-the-president-show-comedy-central-anthony-atamanuik/index.html