Author draws parallels between Donald Trump and rise of 1930s fascism, in rare public appearance at Royal Festival Hall
John le Carr, one of Britains greatest living writers, has spoken of the toxic parallels between the rise of Donald Trump and the rise of 1930s fascism.
In a rare public appearance, the 85-year-old novelist and former spy spoke of his disdain for Trump and his despair for the US and the wider world.
Something truly, seriously bad is happening and from my point of view we have to be awake to that, he told an audience at the Royal Festival Hall in London.
These stages that Trump is going through in the United States and the stirring of racial hatred a kind of burning of the books as he attacks, as he declares real news as fake news, the law becomes fake news, everything becomes fake news.
I think of all things that were happening across Europe in the 1930s, in Spain, in Japan, obviously in Germany. To me, these are absolutely comparable signs of the rise of fascism and its contagious, its infectious. Fascism is up and running in Poland and Hungary. Theres an encouragement about.
Even today, Le Carr said, Ang Sang Suu Kyi is speaking of fake news in Burma. These are infectious forms of demagogic behaviour and they are toxic.
Le Carr was speaking at an event in aid of the charity Mdecins Sans Frontires and which was also beamed to cinemas to mark the publication of his latest book, A Legacy of Spies, which features the return of his fictional spymaster George Smiley.
The audience, which included Tom Stoppard, Nigella Lawson, Frank Skinner, Jarvis Cocker, Richard Osman and Robert Winston, listened as Le Carr looked back on his life and work and answered tweeted questions from the public, chosen by moderator Jon Snow.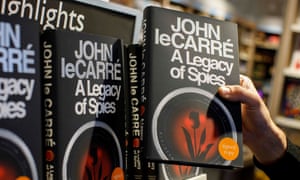 Read more: https://www.theguardian.com/books/2017/sep/07/john-le-carre-on-trump-something-truly-seriously-bad-is-happening