President Donald Trump and his spokeswoman on Friday repeatedly declined to clarify the cryptic remark he made while posing for photos with military leaders that the gathering might represent "the calm before the storm."
Trump was asked at an Oval Office event Friday what he meant by the statement, but he just winked and repeated his answer from the night before, saying, "You'll find out."
Amid tensions with North Korea over its nuclear and missile programs and reports Pyongyang may be on the verge of another missile test, White House press secretary Sarah Huckabee Sanders also declined to explain the comment.
"We're never going to say in advance what the president's going to do," Sanders told reporters.
Trump made the statement Thursday evening as he posed for photographs with senior military leaders and their spouses in the White House State Dining Room ahead of a dinner expected to include the discussion of national security issues.
"You guys know what this represents?" Trump asked assembled members of the media, who had been abruptly called in to the room. "Maybe it's the calm before the storm."
Asked repeatedly by reporters what he meant, Trump said, "You'll find out."
International tensions, particularly with North Korea, have put investors on edge. Renewed concern over reports that the North Korean regime may test another missile damped investor appetite for riskier assets heading into the weekend. The S&P 500 Index halted its longest winning streak in four years and the dollar lost ground versus the yen, while havens such as gold edged higher.
During a meeting with military leaders earlier Thursday afternoon, Trump said his administration was focused on "challenges that we really should have taken care of a long time ago, like North Korea, Iran, Afghanistan, ISIS, and the revisionist powers that threaten our interests all around the world."
During those remarks, the president also appeared to issue a vague threat toward the regime in North Korea, which has antagonized the U.S. president with a series of nuclear and ballistic-missile tests.
"We cannot allow this dictatorship to threaten our nation or our allies with unimaginable loss of life," Trump said. "We will do what we must do to prevent that from happening. And it will be done, if necessary — believe me."
More: What U.S.-North Korea Hostilities Might Look Like
William Cohen, a former Republican U.S. senator from Maine who served as President Bill Clinton's secretary of defense, said that while Trump's comments might be entertaining, he didn't believe it to be wise policy.
"The president has sent another rabbit out on the White House lawn and asked the press to go chase it," Cohen said on MSNBC.
Trump's latest remarks echoed comments he made in August, when he warned that North Korea will face a devastating military strike if it continues threatening the U.S.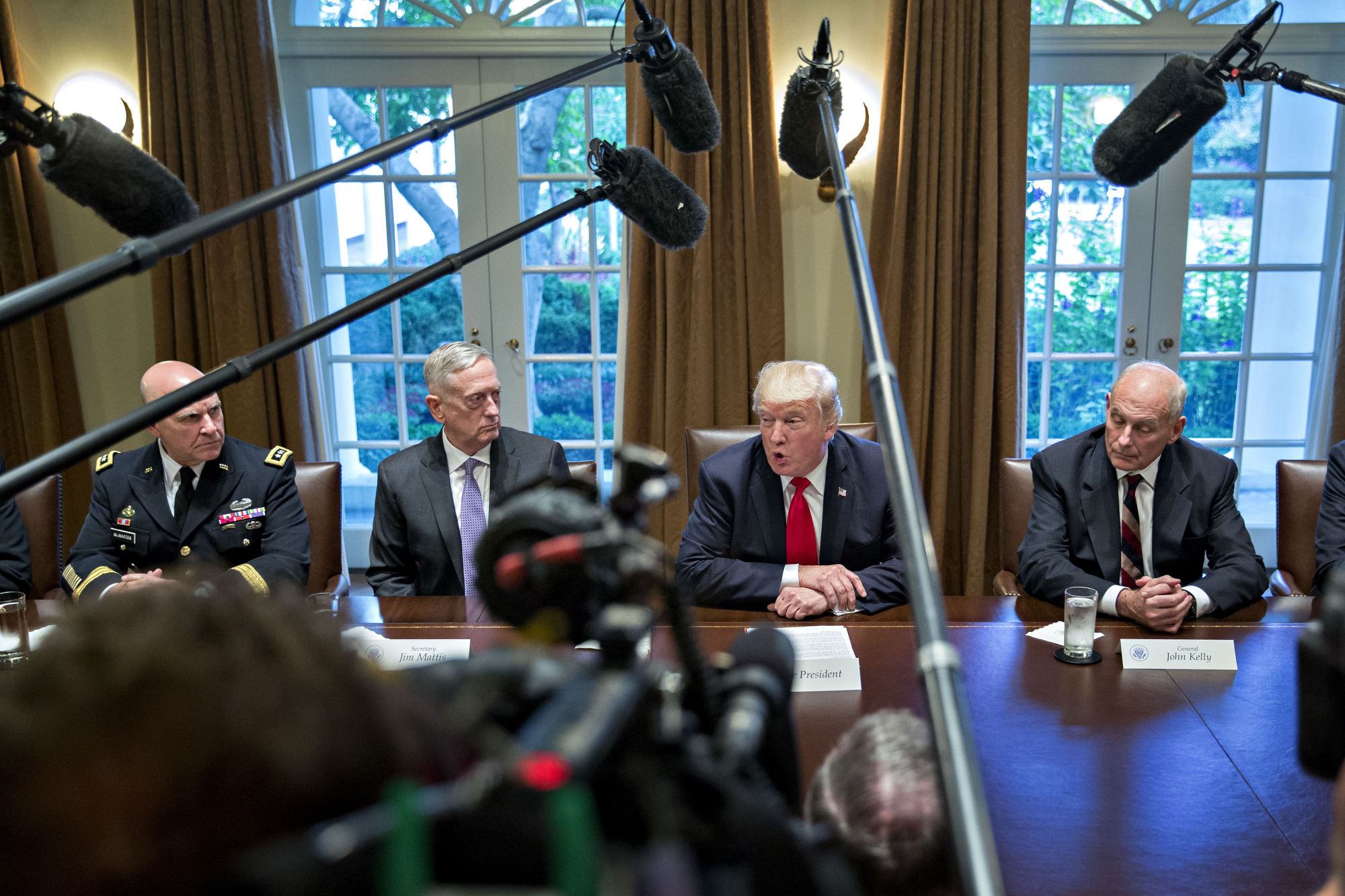 "North Korea best not make any more threats to the United States," Trump told reporters in Bedminster, New Jersey at the time. "They will be met with fire, fury and, frankly, power the likes of which this world has never seen before."
The president rebuked his Secretary of State, Rex Tillerson, on Sunday, saying he "is wasting his time trying to negotiate with Little Rocket Man," the label he's given to North Korean leader Kim Jong Un. A day earlier in Beijing, Tillerson told reporters that the U.S. was talking to North Korea "directly, through our own channels."
Trump also is expected to soon announce his decision on whether to "decertify" the Iran nuclear accord in the coming days, which would prompt a congressional review period on the accord.
Read more: http://www.bloomberg.com/news/articles/2017-10-06/trump-says-military-gathering-might-be-calm-before-the-storm